paragraph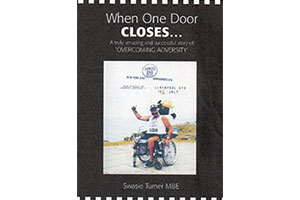 Outspoken, outgoing and outstanding when it comes to raising cash for charity, Swasie Turner MBE tells his tale of overcoming adversity in his autobiography, When One Door Closes.
As a Sergeant on patrol with an officer on Merseyside, Swasie was ruthlessly run over by a motorcyclist who sped away from the scene. Swasie was left with life-changing injuries, wheelchair-bound and struggling to cope with his beloved wife's illness. He was plunged into the depths of despair on the death of his wife, but emerged more determined than ever to devote his life to fund-raising for others in need.
paragraph
Brain injury charity Headway support people in the community following head traumas. Here, we speak to Headway's James Coxon about the charity's ID cards which can help aid communication between the brain injury survivor and police officers…
Headway – the brain injury association supports people affected by acquired brain injury through a wide range of services, including rehabilitation programmes, carer support, social re-integration, community outreach and respite care.