The news that knife crime has reached its highest level ever is shocking, but not surprising, says the Police Federation of England and Wales (PFEW).
Knife crime is officially up by 16% as a staggering 40,147 incidents were recorded by police in the past 12 months, according to new figures released by the Office for National Statistics (ONS) today.
As a result, hospital admissions for knife victims also rose by 14% with more than 4,600 people requiring hospital treatment in England alone, according to NHS data.
The ONS figures also revealed that:
Murders** rose by 12% with 701 incidents recorded by police in the year ending March 2018
Firearms offences were up by 2%
And robberies had risen by 30%
This is coupled with yet another drop in the number of police officers in England and Wales, with new Home office figures showing there are now only 122,404 officers keeping the public safe, with a further loss of 738 officers over the past 12 months.
PFEW vice chair Ché Donald said: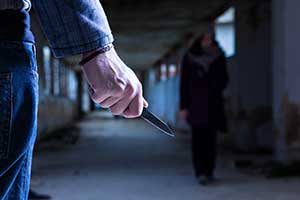 "These new figures are proof, as if we even needed it, that policing in the UK is on the critical list. Not only has knife crime gone through the roof, but murders are also escalating. Last year there were 701 murders – that's more than the number of troops who have died in the entire Afghan conflict since 2001 (456.) And yet, thanks to Government funding cuts, we now have the lowest number of police officers since 1996. The figures show we have lost more than 21,300 officers since 2010 – that's a drop of 15% and the numbers keep going down every year. It's like Groundhog Day."
Mr Donald added:
"We have a Government who recently launched their Serious Violence Strategy – yet failed to make one single mention of the falling numbers of officers, which they were rightly criticised for. You would think that every time we have the same conversations about rising crime, particularly violent crime, it would be a wake-up call for the Government. But instead it just feels like we are sleepwalking into a nightmare."
For more information about Knife crime and figures please click here