Editor Victoria Galligan chaired the speakers' sessions at the recent Custodial Facilities Forum and outlines the networking event which welcomed delegates from across the sector…
The third annual custodial facilities forum took place in November at Whittlebury Hall in Northamptonshire. Organised by Stable Events, the forum gathered both supplier delegates and project delegates, allowing them one-to-one meeting time, the opportunity to network with fellow professionals, and hear from speakers in the field. This was a useful event in which the public and private sector could make vital connections and share ideas.
I was honoured to be asked to chair the event and presented a speech on custody and the media, in which I invited organisations to work closely with the Custodial Review and other media outlets to "shout" about their positive stories – from rehabilitation successes to new buildings and projects.
Here is a run-down of each speaker's presentation, which are also available to download from the custodial facilities forum website here: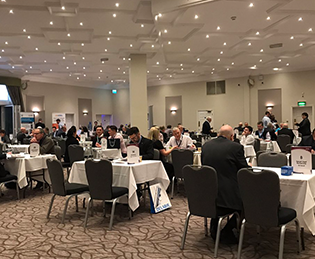 Andrew Digby – Head of Safety, Security and Standards, MoJ Estates Directorate:
As the review of the Police Custody Design Guide by the Home Office and MoJ is currently underway, Andrew spoke on the thinking behind the recommended changes in design. He said that upon arrest, detainees go through a somewhat bewildering experience when faced with the custody desk, interviews and being held in cells. The aim of the review is to produce a more coherent, consistent approach to custody across the board.
Andrew said: "The old guide doesn't deal with fire safety particularly well," and that the new guide would address this, as well as being more transparent and open.
The guide is due out towards the end of 2018 and the MoJ were working with police commissioners and academics to gain as wide an insight as possible into the needs of staff and detainees. Andrew explained that there will be a significant move towards digital construction in the future, with building information modelling (BIM) being used more widely following recent successes.
The charge desk has been reconsidered completely in a move to make the experience of being arrested less stressful. He said; "That's when it really hits home for the detainee that they've been arrested and are in some kind of trouble. It's a key point in the detainee's experience of custody."
In order to improve the flow of the arrest and questioning process, create a better environment for staff and make the detainee safer and more comfortable. Andrew pointed towards evidence which suggested that better environments made for better interviews and a greater success rate for officers in terms of questioning. Design possibilities already in use in police stations in other countries include:
• increased daylight. This not only helps the detainees to gain a sense of time (which is often disrupted following arrest), the lighter, brighter areas have a more positive effect on staff morale than areas without windows.
• clocks in cells – as the detainee's sense of time is lost, which can cause anxiety, timepieces should be placed in every area – including the cell. This can be done by led where a clock is projected onto a wall.
• colour in cells – traditionally due to cleanliness issues, walls have been painted totally in cream or similar off-white colours. The theory that more muted colours on walls, or coloured fixtures in the room, will soften a stark environment is now coming into play.
• the charge desk design – a more modern, welcoming environment is encouraged to put the detainee at ease
• better exercise yards – physical activity is important to let the detainee release stress
• better staff facilities – to raise morale and make the staff feel valued, which in turn increases productivity.
Andrew also discussed the ageing population of detainees and prisoners. Andrew said: "We are seeing more and more elderly offenders. This is partly due to the rise of internet crime as it's so accessible – offenders used to be mainly younger, fitter people but now you can commit a crime in your bedroom on a laptop."
Finally, Andrew outlined some co-location projects. Combining the police, fire and ambulance services in one building obviously cuts costs but can also mean speeding up processes if a person needs to be transferred between services.
Andrew Cupples – Justice and Civic Design Leader, DLR Group
Andrew came all the way from Los Angles to the forum, which was a testament to his commitment to improving youth offender units not only in the US but also worldwide. DLR's philosophy in design is having a positive impact on re-offending rates and is an example for the UK to look to when considering future projects.
Andrew began by explaining that the US prison population is currently reducing due to its ethos – that efficient design does not necessarily result in effective outcomes.
He said that a trauma-informed approach which incorporated wrap-around therapy for youngsters, involving their family and the wider community, was necessary to reduce reoffending. He gave the example of Missouri's youth justice system – lauded for years as the "Missouri Miracle" – which means that fewer than 10% of youngsters who go through the service come back.
Andrew showed DLR designs of several facilities and described them as "boarding schools that have a fence around them". He explained the key features were:
• Youngsters are housed in small groups
• The ratio of staff to inmates is low – 1:8
• Facilities such as the gym, canteen and auditorium are shared with the community
• The accommodation is homely and less stark than older facilities.
Andrew said: "The District of Columbia's New Beginnings Youth Development Centre doesn't look like an institutionalised building. It's got an auditorium in which youngsters can act out their emotions."
And at Campus Kilpatrick in Malibu, a recent $48million redevelopment project has taken place which saw the 1960s barracks-style arrangement demolished and replaced with a state-of-the-art design. Cottage-style houses for detainees were built alongside a communal centre which boats high ceilings, a glass facade, wooden flooring and contemporary lighting – all against the backdrop of the Californian hills.
Andrew also pointed towards a move from pre-cast concrete to timer frame construction, which contributes to making the buildings look less harsh.
Roland Karthaus – Director at Matter Architecture
Roland discussed prison design and its effects on the inmates' wellbeing, in a presentation which first looked at an "ideal" model of prison design: the panopticon was developed by philosopher Jeremy Bentham in the late 18th Century. The model centres around a focal point from which prisoners can easily be watched without knowing whether or not they are being observed, which therefore should result in good behaviour at all time. Although the actual panopticon was never built, elements from its design were taken on board and used in prison design. 
Roland has worked on a design guide, Wellbeing in Prison Design, with the prison Estate Transformation Programme, funded by Innovate UK and RIBA Research Trust. Nowadays, the focus is on privacy for the prisoners and preventing the built environment from having a negative effect on rehabilitation.
Roland explained that acoustics were one element of design which were important in prisons: when one or two prisoners are creating loud noises in their cells, if the design of the building allows the sound to travel then other inmates are obviously going to be affected and tensions will rise. He pointed to HMP Low Moss, built in Scotland in 2012, as a good example where the acoustics allow noise to be blocked to a certain extent through the use of sound baffles.
In essence, the ethos of Matter Architecture is that in an uplifting environment, prisoners can feel safer and happier – which has a positive effect on the use of their time in prison and improves chances of rehabilitation, as well as reducing conflict.
Christine Kelly – Assistant Head of Health and Justice, NHS England 
Christine discussed the complex make-up of NHS England's commissioning responsibilities and the challenges and opportunities facing health and justice. She explained who the Health & Justice team service: including adults, children and young people in prisons, YOIs, police custody, courts, people on probation, in immigration removal centres and in the community including in children's homes. Their work is non-emergency and also incorporates care after custody.
Christine said her work was like commissioning healthcare in "other people's houses" as the team's work is done outside of NHS buildings. She discussed court-based interventions in mental health cases and developing continuity of care plans so people could be looked after more effectively throughout their journey in the justice system, and beyond. This was part of the Health and Justice team's Strategic Delivery Plan.
Christine said the team was led by patient's needs and invited feedback from the people they looked after, which led to changes in the system – although she said what patients wanted and what they need wasn't necessarily the same thing. Christine stated the rise in the use of psychoactive substances as "causing enormous issues in the custodial estate". 
Collaboration with custodial facilities is key, said Christine, emphasising: "We cannot work without the enablement from agencies around us."
The ageing prison population was also addressed in Christine's presentation, and she said some prisons were becoming "old people's homes with locked doors". End of life procedures, however, were not pertinent to the custodial environment – many housed in Victorian buildings.
I asked Christine about the ratios of prison officers to inmates (which in recent years has reached 1:30 in some prisons) and in particular staff ratios in YOIs – especially following the comments from Andrew Cupples on effective rehabilitation. She said that the Benchmark had reduced the number of officers by 1/3 and, although the problem of understaffing was being rectified as new prison officers were coming into the service, the ratios were still an issue in terms of keeping prisoners safe and ensuring their health and wellbeing was being protected.
Simon Crosby – Director at Corstophine & Wright Architects 
With a long list of custodial projects to his name, Simon said he had designed around 50% of the country's new police custody suites in recent years. He said: "Our job is making sure that these buildings work. We think about how spaces and places impact on behaviour."
The collaboration with police forces – of whom Simon said were "some of the best clients I've ever worked with" – is vital to Simon's work and because officers know their environment so well, their input has a huge effect on the design of a new project.
He added: "The police keep very good records and track the movements of detainees around the station, so we can identify the bottlenecks which different procedures cause."
Corstophine & Wright work to manipulate the spaces in custody suites, freeing up officers' time by creating workplaces which flow.
He gave some examples of recent projects, which started in 2005 with the West Yorkshire Police Framework. He was asked to join the board of the panel which produced the framework. Custody was looked at as a process, which led to modifications being made straight away at some brand new stations – the police had followed commercial building designs which did not work in a custodial setting.
The aspects which were changed in future designs included:
• speeding up the process of booking, interviewing etc through placing rooms in a sequence, for example, to cut down on the officers' time spent walking through the station
• Increasing the detainees' and interviewees' compliance and deescalating aggressive behaviour by provided a modern, bright environment
• Making staff and "clients" feel like they had been treated well through quality design
• Ensuring everyone who passed through the suite – including innocent people and young people – were treat with dignity
• Considering complex issues such as segregation and privacy
• Considering the station's clientele – what type of crime tended to be committed in a certain area?
• Future-proofing IT systems and equipment
• Ensuring PACE was not breached through poor planning – for example, having doors through which officers could hear the detainee talking "privately" to their lawyer
The result of these aspects and many other additional design features has led to the company creating spaces which officers have requested to work in, said Simon, and staff sickness even reduced as morale was boosted.
Victoria Galligan – editor of the Custodial Review 
I explained that the aim of the magazine is to provide high-quality editorial on the custodial environment – in the police, prisons, customs and immigration sectors. I encouraged everyone to subscribe – it's free for professionals in the custody sector – and follow us on Twitter, Facebook and Instagram.
As well as the editorial content, of course, we feature advertisements. The products, events and services featured are specifically targeted at this sector: from finance to fire suppression, drainage to drone detection, we invite advertisers to reach the people they need to: the publication goes out to over 3,500 senior personnel who have subscribed to the magazine, plus further copies are distributed at events like these and trade shows. We also send out e-shots and newsletters to keep subscribers informed.
I ran through some of the most talked-about events of 2018, from the Government's takeover of HMP Birmingham to new HMP Twitter accounts being verified. I invited those representing companies, organisations and custodial facilities to shout about their good news, and send press releases or article pitches to me at editorial@euromediaal.com.
Next year's custodial facilities forum will take place at Whittlebury Hall on 14-15 November, alongside the mental health and dementia facilities forum. For more information, see cf-forum.co.uk.
Photos: Stable Events/Emily Birch