After more than four years delivering its insight-based programme to men in prison, Beyond Recovery started working with HMP Nottingham in March 2019. The team was asked to assist in the development of the prison's Incentivised Substance Free Living (ISFL) wing, by providing support to the men living there. David Kowitz, philanthropist, generously provided funding for Beyond Recovery to deliver their programme in Nottingham prison.
Independent Research
It was agreed from the outset that independent research should be undertaken to evidence the impact of Beyond Recovery's programme on the men from ISFL wing. Data collection began in April 2019 for an HMPPS-approved independent research study. Three Principles Research & Consulting (3PRC) carried out qualitative research (interviews) and quantitative analysis (surveys) both before, and 2.5 days after, Beyond Recovery's intervention.
Additionally, individual case studies were gathered from some of the participants who had been deeply affected by Beyond Recovery's programme.
Research results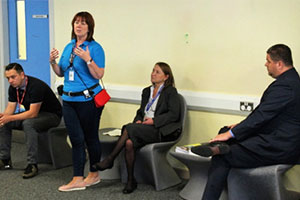 The results of the first stage of research were encouraging. As stated in the Governor's report, participants in the Beyond Recovery group reported an improvement in wellbeing and pro-social behaviour compared to the control group. Furthermore, the incidents of reported self-harm per person reduced significantly after the men took part in the Beyond Recovery group.
The prisoner case studies backed up the initial research findings reporting that the programme had benefited the ISFL wing, with both staff and prisoners describing it as a much safer and calmer place.
Conclusion
The research results have highlighted the need to further evaluate the effectiveness of the Beyond Recovery programme over time. 3PRC are continuing to gather data, having applied to HMPPS to extend the scope of the research for an additional 10 months (September through to June).
Nonetheless, the preliminary findings on wellbeing were promising.
Jacqueline Hollows, Beyond Recovery founder said: "We are happy with the initial results from the research, although we recognise the need to gather more data over time. In our first six months at HMP Nottingham, both our facilitators and visitors to the Beyond Recovery group sessions witnessed an incredible change in the men taking part. Time and again we've seen people with problems that look overwhelmingly difficult become resilient – with potential for hope, change, and connection."
Photo: Members of the Beyond Recovery Team at HMP Nottingham, August 2019; Beyond Recovery team delivering its programme to the ISFL wing group