Static Systems Group's extensive expertise in developing fire solutions for custodial facilities is behind the company's latest innovation: a control system which fully integrates a prison's fire alarm system with high-pressure watermist fire suppression equipment.
EvoMist™ has been developed by Static Systems in response to the Ministry of Justice's (MoJ's) latest technical specification, Spec 054.
The system was designed, manufactured and tested at Static Systems' in-house manufacturing facility in the West Midlands. It is the first integrated fire alarm and fixed misting system of its kind to be deployed in the UK's custodial facilities, having being installed in early 2019 by Static Systems at a Category C men's prison in the East Midlands where it will protect around 200 prisoners in the facility's new house block.
An event was held to mark the installation and was attended by senior managers and a fire safety officer from the MoJ, the Prison Governor and representatives from the main building contractor and its M&E consultant. Also in attendance were representatives from Static Systems and its partner for this project, Fireworks Fire Protection Ltd, who supplied the high-pressure watermist system.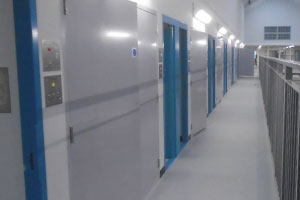 Automatic control panel protects custodial facilities
The primary benefit of this new solution lies in the fact that the control panel is fully integrated with the fire alarm and misting equipment, so activation is automatic and does not depend on manual intervention from prison wardens. Consequently, even if staff are unable to reach the location of a suspected fire, prisoners' lives will not be put at risk because the misting equipment will activate automatically.
Alan Chatterton, Custodial Account Manager at Static Systems, comments: "For over thirty years, Static Systems has held a proven track record for innovation within the custodial sector and we are delighted to be behind the first installation of this bespoke integrated system in a live prison environment.  Demand for this solution is likely to rise, with MoJ risk assessments determining that fixed misting systems should be installed during fire alarm upgrades at a number of UK prisons. Integrated fixed misting systems are also likely to be considered for all new-build prisons."
Static Systems is an acknowledged specialist in the provision of fire alarm, cell call, general alarm and associated head-end integrated solutions for the custodial sector. 
For further information on how to protect custodial facilities from fire visit: www.staticsystems.co.uk or email: sales@staticsystems.co.uk