The claims made by new research which states that carrying Taser increases police use of force have been challenged by the Police Federation of England and Wales.
The study, which was undertaken jointly by the University of Cambridge and the City of London Police, concluded that the mere 'presence of electroshock devices (Taser) led to greater overall hostility in public/police interactions in what researchers call the "weapon effect"'.
Ché Donald, Vice Chair of the Police Federation of England and Wales said: "This study provides a catchy headline but when you look at the detail I have some serious concerns about the veracity of the results.
"The City of London is a small force with a unique policing set up and fewer than 700 officers – only a small percentage of whom police on the frontline. This study recorded less than 6,000 incidents over a 12 month period and when you consider other forces deal with several thousand incidents on a daily basis you start to see where issues could arise."
The study covered the period from June 2016 and June 2017. It states that of the 5,981 instances recorded a Taser was drawn on nine, and discharged on just two occasions.
The researchers state that during the study there were six assaults on police officers carrying Taser as opposed to three from the unarmed control group.
They claim this supports the so called "weapons effect" which states that people can escalate their own level of aggression in response to the sight of a weapon.
Mr Donald challenges this: "This is a tiny number on which to base such a massive assumption," he said. "It must also be recognised that officers who carry Taser – specifically because they do have this tactical option - are allocated and attend more incidents where there is an increased threat of harm or violence.  Ergo they are naturally involved in more of these types of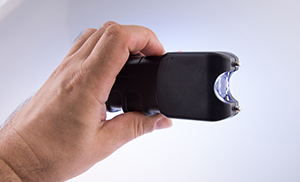 incident.
"And nationally in 85 percent of incidents where Taser is involved, the matter is resolved by officers 'red dotting' the subject a without the need for the weapon to be discharged."
City of London Police say the force is exploring whether a simple holster change or weapon position move will nullify the so called weapons effect. They have also updated their training package for officers carrying Tasers in response to this study.
Mr Donald responded: "If any shift in policy regarding the concealment of Taser – or indeed firearms – is to be considered we would expect this to be based on a much larger, more empirical study encompassing a more representative set of forces across the country.
"What we know, and what has been evidenced by independent research carried out by IPSOS MORI is that almost three quarters of people surveyed thought it was acceptable for officers to carry Taser while on patrol.
"Members of the public are reassured that officers have this equipment and it is a visible deterrent for those contemplating violence. Our position remains that all officers who want to, and who pass the relevant qualification criteria, should be able to carry a Taser." 
Other key findings from the IPSO MORI research included:
Four out of five people said it would make no difference to their decision, or they would be more likely, to approach an officer for assistance if they were carrying a Taser
89% said forces should be allowed to train and equip officers if the use of Taser is automatically recorded by Body Worn Video
79% said that forces should be allowed to train and equip officers if Tasers were to be issued to police officers working alone
Only 17% disagree that all police officers should be given the option of being equipped with Taser
Mr Donald concluded: "Given the levels of violence that my colleagues are subjected to on a daily basis, which is evidenced by our Protect the Protectors campaign, I find it disappointing and unhelpful that research such as this deflects away from the positives that Taser represent in protecting police officers and our wider communities."