All four National Police Air Service (NPAS) aeroplanes are now in the UK.
Two new aircraft were delivered last week from Austria, joining two that received their UK registration markings in April. 
Work is underway for all four aircraft to achieve air worthiness and police operational certification - a process expected to take several months - before they can begin flying in support of police forces in England and Wales.
When the aeroplanes are operational, they will be deployed from NPAS' Doncaster base. They will join the existing fleet of helicopters, which fly from 13 other bases.
Chief Superintendent Scott Bisset, NPAS Chief Operating Officer said: "The delivery of the two remaining aircraft is another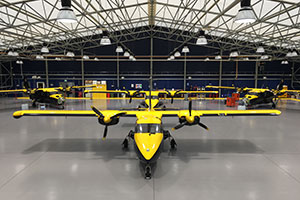 milestone for this project and a significant step closer to bringing them into service. There is still work to be done before they are declared fully operational but we will be keeping forces updated about progress and how this new resource can assist them to tackle criminality and protect the public." 
The aircraft will be crewed by a pilot and a tactical flight officer, using similar camera and downlink technology found on NPAS helicopters.