SportsArt Industrial has made a major commitment and investment to expanding sales and servicing of  the UK health and fitness market.
As a global leader in the design and manufacture of innovative, quality cardiovascular and resistance training equipment, the formation of SportsArt Fitness UK complements the Group strategy of establishing a network of over 70 distribution companies  world-wide.
Mark Turner has been appointed MD to head up the new venture of  SportsArt Fitness UK and is no stranger to the SportsArt Fitness organisation and equipment. In his previous role as MD of fitness equipment suppliers – Physique, he experienced first hand sales of SportsArt products supplying SportsArt fitness equipment to leisure centres, health clubs, educational establishments and prisons.
In talking about his new role, Mark Turner commented, "Maybe you could call it natural progression, but with a career that spans some ten years in local Authority Leisure operations and subsequently ten years at Physique, the chance to head up SportsArt Fitness UK with the formidable support of a long established international organisation, was too much of an opportunity to turn down.
SportsArt Fitness are one of the most progressive companies in the industry, which is reflected in their recent commitment to investing $20 million in a new
state-of-the-art factory to be built just outside Hong Kong. Plus they are committed to providing a structure on a world-wide basis that will proficiently support sales and servicing of SportsArt fitness equipment, which is a vitally important consideration when purchasing commercial fitness equipment." 
Full details of  SportsArt Fitness equipment is available on request or from www.sportsartfitness.co.uk / www.sportsartfitness.com
Xtreme Series from SportsArt is an energy efficient winner
New Cardio fitness range meets extreme demands of constant use
The new Xtreme Series from SportsArt Fitness has the sleek Euro-styling features and user friendly interface to excite and motivate exercise for all age groups and fitness levels. Fulfilling the criteria as demanded by many correctional facilities and Physical Education Trainers - the Xtreme cardio vascular series will not only withstand the constant pounding, it also incorporates a new revolutionary, low cost energy efficient drive system in the treadmills.
XtremeTreadmills
SportsArt have incorporated new innovative engineering and technology to create the Intelligent-DriveTM System that uses up to 32% less electricity than DC powered treadmills. A facility with 10 treadmills could annually save approximately £2,000* on electricity! (*Based on the national average cost per kilowatt hour of electricity.)
The brushless design of the Intelligent-DriveTM System ensures minimum maintenance requirements and the motor is fully supported by a 20 year factory warranty. The new belt cushioning system never looses its resilience and will offer the same joint protection and cushioning effect at 30,000 miles as it does when new.
The new series of treadmills from SportsArt are available with visually stimulating dot matrix, easy to read user interface, or LCD versions.
The dot matrix version features the proprietary Cardio-AdvisorTM heart rate display, oversized LED's for easy viewing, multi-coloured workout goal status gauge, a variety of programmes and 8 feedback displays to assist in monitoring of fitness progress.
The integrated 10.2" LCD versions can display full screen video, full screen workout data or split screen facility to cover both, and are also C-safe compatible.
The radical new Intelligent-DriveTM System allows the motor to perform 10,000 calculations PER REVOLUTION in order to deliver unsurpassed performance and refinement.
Xtreme Cycles
SportsArt Fitness have maintained the high standards of innovation within their cycles, as the step-through recumbent features the patented Comfort-DriTM seatback which is vented to help users stay cool during workout. In addition, the seatback has multiple adjustment options to ensure Xtreme comfort. Both the recumbent and upright versions feature convenient one-touch pedal strap adjustments. Upright versions have 4 contact heart rate pads to accommodate different riding styles.
The new cardio Xtreme Series from SportsArt Fitness UK was designed to excite and motivate users to the full, whilst addressing the commercial and business running needs of leisure and physical education facilities. The Xtreme series provides quality proven engineered fitness equipment with a track record of reliability, whilst conforming to green issues by reducing energy use and providing significant costs savings.
For further details of the new Xtreme Series from SportsArt telephone Mark Turner or visit www.sportsartfitness.co.uk
Fitness For Corrections
MD of SportsArt Fitness UK - Mark Turner gives his thoughts
on employee fitness with facts from around the world
Sure, prison and corrections facilities are required to offer exercise opportunities for their inmates, but what about their employees? Don't Prison Officers and other employees need the benefits of regular fitness workouts as much as anyone else?
As a result of the growing pressures in the prison service, there has been a significant trend in correctional facilities across the country to implement employee fitness programs. These might be as simple as a wellness program to teach employees about exercise, diet and healthy living, or they could offer professional fitness centres with state of the art equipment.
As a norm, the majority of programs fall well short of the professional facility, as work out areas are being shoe-horned into any available space. We have seen instances where equipment has been chosen to fit a tight budget or a facility has been cobbled together from equipment which has been donated to the facility. However, lets be positive, something is better than nothing, and a starting point is a place from which to grow.
Very few programs start with the best equipment possible. It probably makes more sense to start with a small program, then as and when you start seeing results it is possible add to and improve facilities. However, if you are able to start with better equipment and qualified instruction you will find that more people will want to get involved and will stay committed to training an staying fit.
Whatever direction you decide to go in, remember that results take time to achieve but the benefits to the employee will be certainly noticeable in the long term.
The Benefits:
The benefits of the fitness programs are well documented. They range from greater employee satisfaction to reduced health care costs. Add to that stress reduction, and you have a complete package which shows that a fitness program will pay for itself. The problem is that many of the immediate benefits are intangible. After all, how do you quantify employee loyalty or satisfaction?
Let's take a look at some of the intangibles
Stress Reduction:
Working in the prison service can be extremely stressful, and one of the best, proven and documented methods of stress reduction is exercise. "Fitness improves self worth, dignity and self worth," says Ron J. Clark, President, National Federation of Professional Trainers. "Exercise is the most important way to curb stress. Endorphins are released from the brain during exercise and they tend to inhibit stress hormone release. Exercise is a great way to deal with stress."
There's been a lot of research to show that a person who is physically fit to do the job are more adaptable to the stresses that are brought about by challenging circumstances. They can meet those challenges with less potential harm to themselves and to their health. Fitness has a tremendous effect.
Recently, SportsArt Inc in the States reported a senior officer Major Chuck Bryant, Memphis Police Department, Executive Officer of the West Precinct wrote to them stating, "Through statistics, we've found that officers who are physically fit end up with less complaints, less injuries, and productivity is up because they feel better about themselves, feel better about their jobs, and they work harder because they have more energy. We also lowered our loss of time and our insurance costs. People in highly stressful jobs have to vent and burn off the energy and anger stored up in the day. Working out or exercising has a great benefit on health, and your work, as well as your mind."
Fitness impacts state of mind, as well. "People who are physically fit are more alert, and they feel better about themselves," says Dr. George H. HHMcGlynn, Professor and Chair of the Department of Exercise and Sports Science, University of San Francisco. "There's not as much stress on your body, and psychologically, you are less depressed. Fitness has an impact on personality and view of life." 
Display of Management Commitment and Support
Offering employee fitness is a good way for management to show that they value and support their employees. It's an added benefit to the employee, and can lead to retaining more employees, and making them happier. There has been a lot reported about fitness of officers in the States, which is just appl;icable anywhere in the world.
"We want to have quality, healthy minds and healthy bodies to withstand the rigors of the job," says Lt. Richard Kappler, Transition Team Coordinator, Bergen County Jail. "There's a lot of stress here, and physical fitness is the best stress reliever. If all of us worked out we'd all be better off for it. It's a stress relief, and you are in better shape to handle situations both physically and mentally. It's a good sign to staff that management is concerned about them, and it helps build camaraderie."
There are several reasons why corporate wellness programs are beneficial to an employer--it's can be considered as a recruiting tool as well as a retention tool. A fit employee is a healthier employee, and more productive. Morale is one big benefit of an employee wellness program. If you have employees working out together, it boosts morale among them."
Convenience
Unfortunately, many people find making time for exercise to be a daunting task. After all, they have to find a fitness centre then find time to get to it before or after work, and have to actually exercise. More people would be physically fit if it didn't involve actually doing anything.
Making it easier to schedule exercise, making it more available, can help people get started and stay involved with an exercise program. Many companies have corporate memberships in a local health club, but the location of the health club may not be too convenient for your employees. A facility at work is so convenient--there is no lost time driving to and from the workout centre.
Certainly, making exercise convenient won't make everyone get involved, but it will increase the number of employees who at least try it. Having a fitness facility on site is invaluable, because it's so convenient. A great deal of SportsArt fitness equipment is sold into corporate fitness facilities, and they tell us that one of the major reasons people don't exercise is that it's hard to schedule the time. Having a facility right there at work immediately addresses that complaint. Once people schedule time for fitness in their busy schedule, they find they can stick with it.
Overall Employee Health
Employees who work out with be healthier, happier, and more able to do their jobs as they are less prone to be sick.
Prison officers, in particular, need to be physically fit just to meet the demands of their job. Fitness is very important for two reasons - one is the fit for duty aspect. They need to be physically fit enough to perform the kinds of duties for which they are trained.
The second aspect is longevity--there is a great disparity between the longevity in civilian population and in law enforcement. In America statistics shows that an average male lives to be 72, while the average law enforcement officer lives to be 59.5. It's because of poor lifestyle habits, and these habits are associated with the aspects of the job (irregular hours, short meal periods). It's also a high stress job, and you don't get a lot of exercise through the actual job, or very stressful exercise.
A fit officer is able to do their job better and importantly they feel more confident and better about themselves. It reduces sick time, reduces injuries on duty, and it reduces the incidence of cardiovascular disease. Cardiovascular exercise is more vital because it exercises the heart, which keeps us alive."
Bottom Line Thinking
On what line of the budget do you enter employee happiness?
You can't, but there is starting to be proof that employee fitness and wellness programs do impact the bottom line. Studies are now coming out that show reduced concrete health care costs, reduced insurance payments, reduced sick time and lower long term medical bills.
Dr. Jim Hilyer, Professor in School of Medicine, University of Alabama, Birmingham, Department of Preventive Medicine, Director of City of Birmingham Health and Fitness Initiative Health and Fitness Center, has an extensive database where he have interlocked fitness data with the medical costs and loss time costs for law enforcement officers. He has determined that unfit officers cost about two to three times more than fit officers.
The impact of this information is that it makes more fiscal sense to keep officers fit. "If you look at the data, it's the clearest picture you can ever be presented with," Hilyer adds. "This just emphasizes how important it is to keep your people physically fit. Everyone in the country should be doing this, and it can be done cost effectively."
Getting Started:
It's easier than you think to get started. There's no reason to go out and hire anyone initially, when there are consultants available to advise you on facilities required in order to get employees healthier.
SportsArt can advise facilities on how to set up an employee wellness centre. Mark Turner commented, "We've been involved in planning and build-up of leisure centres, private health clubs and many centres for our emergency teams involved with police, fire and ambulances service. SportsArt can determine how best to utilise available space, assist with layout of room facilities, selection of cardio and strength fitness equipment selection in order to maximise your budget to get the most for your employees.
We have proven products that are reliable, user friendly and are extremely competitvely positioned in the market."
Equipment:
Fitness centres need a mixture of cardio and strength equipment. It's not enough just to have cardio, nor will a weight room do it all. Staying in good, balanced shape means doing both cardio work and strength.
Cardiovascular exercise-- running, biking, stair climbing, rowing, elliptical machines--is extremely vital for keeping your heart in shape, and guarding against heart disease. Treadmills are still the most popular piece of cardio equipment, and figure to be for a long time. Following treadmills are recumbent bikes. Riding a recumbent frees your hands for other things--weight work, reading the paper, and more. Steppers and rowers are favorites for many exercisers, so it's important to have these products as well.
The hottest new product on the fitness scene is the elliptical trainer. It's an exercise that's a cross between a treadmill, a cross country ski machine and a stepper. "The elliptical boom has been fueled by the no impact nature of the exercise, and there is no learning curve required to use the product," says SportsArt's Mark Turner. "Our 8100 Elliptical has been extremely well received. People love the smooth feel of the elliptical motion, and there's no impact to the joints."
The challenge with cardio equipment is having the right amount of products, so that users don't have to wait too long for a machine. This is something that a manufacturer's rep can help you determine. You don't want to buy too many pieces of equipment, but you also don't want your users having to wait forever to get on a treadmill or bike.
Weight training is important to strengthen and tone muscles. It has also been shown that strength training can aid weight loss, because muscles tend to burn more calories even at rest. Many facilities use a mixture of free weights and machines, though there are some safety issues regarding the unsupervised use of free weights.
Some facilities have gone to a complete line of weight machines. There are some manufacturers who offer combination weight machines, machines that offer two exercises for every machine. These force the user to do the exercise correctly, and have safety features built in to make sure no one gets hurt.
If you can find a line of equipment that is complete, and offers both cardio and strength, you are way ahead of the game. A line like SportsArt, for example, that offers a wide range of equipment suits any size fitness center. SportsArt has a full range of institutional cardio equipment, as well as a line of computerized strength equipment.
The benefit of having a complete line of any manufacturer's products is that there is a common electronics platform. That makes it easier for your employees to learn the equipment, because once you learn how to use the electronics package on the treadmill, for example, it's a snap to program the bikes or the stepper. If the equipment is from a host of different manufacturers, you have to learn every piece of equipment individually. This can be very frustrating for your users.
It's vital to get equipment with a good warranty, and a good track record. Nothing is more frustrating to employees than equipment with an "Out of Order" sign on it. Make sure the equipment is beefy, built to last and easy to use, because most employee fitness centers, at least at the start, are unstaffed. If there is no one there to explain how to use a particular piece of equipment, it better be easy to figure out, or it will go unused, and the money spent to purchase will be wasted.
It's vital that you buy commercial quality equipment. Don't think you can get by with a home treadmill, for example, because you won't be able to. You have to buy equipment that is designed and manufactured for the beating that fitness centers, even start up employee fitness centers, dish out. This is hard for many people, because it's a natural human desire to search out the bargains. The fact is that with fitness equipment you get what you pay for. If you need commercial quality, buy equipment that is warranted for commercial use.
There are new lines of equipment from many suppliers that are warranted for light commercial use, which translates to five hours use in an employee fitness center. These products are less expensive than full commercial products, and can serve your center well.
"Products with light institutional warra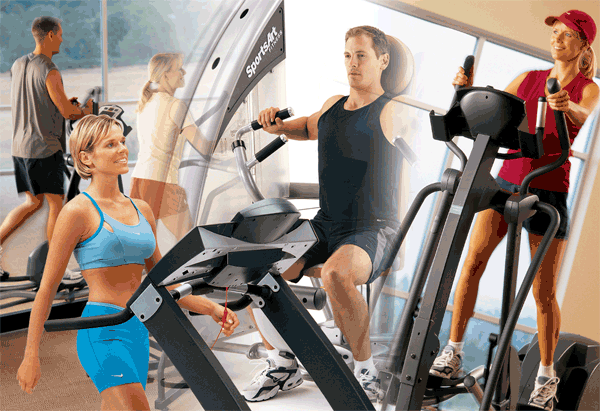 nties are a perfect fit for start up employee fitness centers," says SportsArt's Logan. "They fit a need for a product at a reasonable price, but still offer a commercial warranty and have the quality to stand up to light institutional use. Our Crossover Series is designed specifically with light institutional use in mind: correctional facilities, police departments, fire houses, and others. You have to be careful, however. As soon as your employee fitness center becomes used heavily, you want to upgrade to full commercial products right away.
"To justify any equipment purchase, you can take the projected health care savings you expect to realise, and use that money to buy equipment," Mark Turner continues. "At the same time, many manufacturers, including SportsArt, offer great lease programs that often mean no money down and very reasonable monthly programs. There are creative ways to get the equipment you need."
It makes sense for correctional facilities to offer fitness programs to their employees. A fit employee is an employee better equipped to do his or her job, and a fit employee costs less--in insurance, health care and lost time. At the same time, exercise is a great stress reliever, and you better believe that corrections officers are under stress.
The more correctional facilities can do to help their employees lead happier, healthier lives, the more productive and loyal their employees will be.
If facilities take steps now to impact their employees' level of fitness, they will be able to reap the benefits now and in the future.
Tel: 01282 779234
Web: http://www.sportsartfitness.co.uk
Email: mark.turner@sportsartfitness.co.uk
Fax:  
01282 778430