Solutions and Support for Custodial Staff at The Emergency Services Show
A visit to The Emergency Services Show gives anyone working in a custody setting access to the very best solutions providers and support networks to protect them at work and carry out their role to the best of their ability.
Last year's event attracted a record number of 7,599 visitors, with a significant 30 per cent increase in visitors from the prison service. This year's event returns to Hall 5 at the NEC, Birmingham, UK from 19th to 20th September with a host of new, free-to-attend and CPD-accredited learning and networking opportunities.
Among the 400 companies and organisations exhibiting are leading names in firefighting equipment, smoke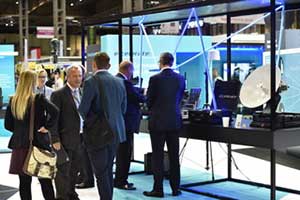 detection, medical supplies, drug testing, communications and IT, protective clothing and uniforms, bodyworn video, surveillance technology including drones, training and safety.
Visitors will be able to see and touch the latest kit and discuss solutions to their needs with leading suppliers including Avon Protection, Bristol Uniforms, Edesix, Excelerate, Pinnacle Response, Primetech, Steroplast and Vimpex.
Over 50 companies will be exhibiting at The Emergency Services Show for the first time including Chevin Fleet Solutions, Coverwatch, Dimatex Securite, Headset Services, Horton Motorcycles, In Safe Hands Health and Safety Training Consultancy, Jemca Toyota, Service Dogs UK, SimTrainer UK, Strongmind Resilience Training and Sub Zero Technology.
T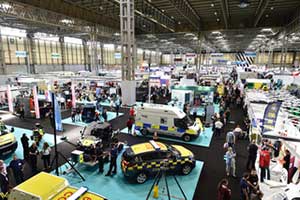 he College of Paramedics is returning to deliver its very popular programme of free 30-minute CPD workshops, which are open to anyone who may need to provide emergency medical response. Of particular interest is a workshop due to be led by Custody Paramedic Richard Steggall.
Following its successful introduction in 2017, the Health & Wellbeing seminar theatre returns for this year's event. Speakers include emergency responders who have experienced mental health challenges including Post Traumatic Stress Disorder, and organisations who are implementing change and offering support such as Oscar Kilo, Mind and the Back-up Buddy app.
A key aim of The Emergency Services Show is to develop relationships and partnerships between all blue light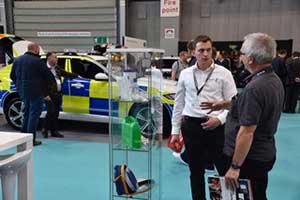 services and government departments like the Prison Service as well as non-governmental and voluntary sector organisations.
The Collaboration Zone is a networking focus of the exhibition with around 80 companies, voluntary sector and other organisations, where visitors can network and exchange learning. British APCO, ResilienceDirect, British Transport Police, the Police Dependents Trust and Her Majesty's Inspectorate of Constabulary & Fire & Rescue Services are among those featuring in this popular area of the exhibition.
Collaboration is also a strong theme in the seminar theatres with presentations on Joint Operational Learning from JESIP, and members of The Resilience Advisors Network and Emergency Services Collaboration Working Group (ESCWG) sharing their expertise. All seminars are free-to-attend and CPD accredited.
The NEC is linked to Birmingham International Station and Birmingham Airport and is directly accessible from the UK motorway network. Entry to the exhibition, as well as parking, is free.
To register for free entry to

 

The Emergency Services Show

visit www.emergencyuk.com