The Maze Prison: book 'rebalances history'
by Bryan Gibson of Waterside Press
Tom Murtagh OBE's new book The Maze Prison: A Hidden Story of Chaos, Anarchy and Politics has been launched in County Antrim at the Lower Maze Social and Recreational Club – which overlooks the remaining buildings of this iconic prison.


Northern Ireland Assembly member Paul Givan, whose own father was a prison officer at The Maze during The Troubles, praised Tom's book and recalled how it felt to grow up in the home of someone who for simply doing their job lived in constant fear and suffered threats and intimidation both inside and outside the prison. 
As with many of those present, including many ex-governors and ex-officers, Tom's book, he said, represented a much-needed re-balancing of history – especially in memory of 29 colleagues who were targeted and killed during the prison's 30-year existence, some in the prison, others on the streets or in their homes. Many more had long-term injuries or remain traumatised.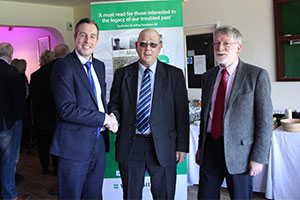 Former Director of NOMS Phil Wheatley CB described it as an important book, he too being concerned that accounts of The Maze so far had been written from the viewpoint of prisoners and internees, so that facts so far hidden or confidential were now being made available for the first time due to Tom's extensive research.


Tom explained that he had spent ten years writing the book. He interviewed in depth more than 50 officers of all ranks who served at The Maze and elsewhere, saying that initially he had been hesitant because events were still raw and sensitive, but the book was now out at last and attracting considerable attention. Indeed, it had been front page news in Northern Ireland's national newspapers and featured several times on TV.
The Maze Prison describes how an establishment built to hold those involved in terrorism, atrocities, murder and other horrendous crimes became a pawn in the partisan conflict as politicians and officials by-passed procedures when it suited them. This led to a breakdown of control as this shifted from Governors to Ministers, outside officials and even at times prisoners. It also led to the often quite random killing of prison officers and countless allegations, denials and obfuscations as Prison Rules came into conflict with claims of well-orchestrated campaigns to be treated as political prisoners or be given Special Category status. 
Vastly experienced, Tom served in both England and Northern Ireland, from Wormwood Scrubs to Belfast's Crumlin Road and other prisons, including as deputy governor and head of security at The Maze at the height of the unrest. Later, partly for security reasons, he ended his career as area manager for Kent, Surrey and Sussex. He believes his stark slant on The Troubles and Peace Process cuts through the propaganda and base politics to reveal the truth about the H-Blocks, hunger-strikes, escapes and power struggles. Based on prison records and personal accounts, it challenges the myths and legends which have grown up and provides an invaluable, un-varnished account of 'One of the most dangerous prisons in the world'.
The Maze Prison is available from Waterside Press at a discount: see the advertisement in the next issue (86) of Custodial Review.
Photo Credit: Paul Givan MLA, Tom Murtagh MBE and Phil Wheatley CB. Photo copyright 2018, Steve Myers.